Precision engineering, offsite manufacture in controlled conditions and a material-first approach make SIPCO SIPs a highly sustainable building solution. SIPs use recyclable materials for added sustainability benefits and performance. They consume less energy annually than comparable building structures, resulting in lower energy costs and output.
SIPs Contribute Positively to the Environment
High-precision manufacturing techniques and an intelligent inventory system mean optimal use of materials by standardising and reusing offcuts. All 'waste' from the SIPCO SIP manufacturing process is fully recycled. SIPCO takes the chain of custody of materials extremely seriously. SIPs are made by securing a laminated Oriented Strand Board (OSB) to an insulating foam core. Most, if not all, OSB used for SIPs will come from the UK or Europe, made from sustainably sourced softwood timber. We track timber using PEFC® Chain of Custody certification for certainty that claims about products originating in sustainably managed forests are credible and verifiable throughout the supply chain.
Structural Insulated Panels contribute positively to the environment by helping to lower CO2 levels. SIPs have significantly lower embodied energy than traditional construction materials, such as steel, concrete and masonry. SIPs typically achieve BRE Green Guide ratings of A and A+ for wall and roof elements. The Green Guide recognises more than just embodied energy when awarding ratings for products and systems, taking into account climate change, water usage, human toxicity and waste disposal when applying ratings. Products and systems which achieve A and A+ ratings are considered to have a low overall environmental impact.
SIPs are an effective form of carbon storage. Sequestered carbon is carbon that might otherwise be in the form of atmospheric CO2, trapped within timber building materials. The process locks the carbon up until the demolition of the building. The long lifespan of SIP buildings makes them ideal for this type of carbon storage – meaning carbon emission levels can be observed and measured easily.
.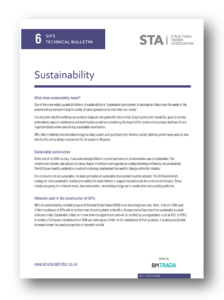 QUICK LINKS: